12th PIPELINE CONVENTION 2004 – Twangtastic Day 2
by Rob Bradford
Within ten minutes of arriving at the International Students House it was obvious that it was going to be another "Twangtastic Day"…
Within a very short space of time I'd already spoken to Bill Bryan, Steve & Helen Terrell, Uncle Alan & Uncle Dave, Clive Poole, Jim Nugent, George Geddes, Paul Keyes, Trev Faull, Tony Hoffman, Maurice Preece, Kevin Wootten and many other fans/collectors from our beloved instro world. Phew!! It was already like an instrumental Who's Who and that was all before the enticing CD/record stalls which included some of those already mentioned plus MoviMusic with the delightful Jolanda, Gerry Woodage's Ventures pitch, Shadsfax, Leo's Den and Bob "Bim-Bam" Thomas. OK I admit it, I am an instrumental CD-aholic. Before the first group was onstage I'd already spent £100! The hall was heaving with numerous other poor souls who were similarly afflicted. Time to form a mutual support group, eh? Almost identical to my opening remarks from 2002 I hear you say. Ah well, it's that sensation of déjà vu you see. As ever there was a wonderfully relaxed and friendly atmosphere. To me all of these guitarists, writers, fans, dealers, collectors and aficionados are like part of a huge extended family where everyone shares a mutual interest – a love / passion / obsession with regard to instrumentals.
It's also great to mingle with instrumental stars past and present – all of whom were willing to stop and chat. Amongst the celebrities were John Barber (Scorpions), Warren Bennett (Vibratos), Mo Foster (session bassist to the stars), Alan Jackson (Vintage), Ivor Knight (Scorpions), Mike O'Neill (Nero!!) and Dick Plant (Vibratos). In addition, of course, the group members who were performing that day were also wandering around the venue. 
LOST 4 WORDS
As a new venture for 2004, Lost 4 Words took over the guitar room for the afternoon. Incredibly, they had agreed to play for virtually two hours with only a very short break. They had prepared a set list of no fewer than 52 instrumentals and had sheaves of forms at the back of the room for fans to submit requests. They needn't have worried. In the event Lost 4 Words played an incredible 49 different instrumentals, which is a staggering achievement. They decided to omit their three Duane Eddy numbers on the basis that there was plenty of that being provided by the Duane Eddy Convention in general and the Twang Gang specifically. They still played 52 numbers as they repeated a few items for fans who arrived for their second set.
These guys certainly looked the part with their snazzy matching Hawaiian shirts and with two guitarists sporting red Fenders. Full marks to them for an incredibly varied set list including seldom played covers from such diverse artists as the John Barry Seven, The Dakotas, Joe Brown, The Rocking Rebels, Dick Dale, The Krew Kats, The Outlaws and many more. Matt Saunders (drums) and Tim Izzard (bass) always provided a rock solid foundation upon which guitarists Paul Morris (rhythm) and Jim Wootten (lead) built admirably.
Tim and Paul made all of the announcements and the group banter, badinage, asides and wisecracks were often hilarious. They certainly seemed to be enjoying themselves and made sure that the audience did too. All of their surf numbers were uniformly excellent with the group donning cool Raybans for exhilarating romps through The Tornadoes' Bustin' Surfboards, The Pyramids' Penetration and other classics. During these numbers Paul was "surfing" on a suitably psychedelic wedge!!
Other highlights from their eclectic set included Hit And Miss, with Paul cleverly replicating the pizzicato strings of the JB7 original by playing his guitar through a synth simulator device, a truly rousing Ghost Riders In The Sky (which received a tremendous ovation) and a superb Hava Nagila (even more resounding response). You want more? How about a very ambitious arrangement of The Good, The Bad And The Ugly which Jim turned into a guitar workout tour de force. A fiery Wild Weekend was excellent and their original Lost 4 Words Theme is a tasty dual guitar item. Misirlou was a joyous out and out blasting thrash. Also full marks to Paul for an outstanding version of Albatross when he took a rare turn on lead guitar.
The audience fluctuated between 30 and 100+ during the afternoon and really I can't praise the group too highly for their stamina, skill and great sense of fun. Thanks guys, you did a fantastic job. One final point, when will there be a Lost 4 Words CD?

ALAN JONES & FRIENDS
Great idea – take a former Shadows bassist and form a group around him with some really talented musicians. Yup – great idea and it worked a treat!
Alan Jones is undoubtedly one of the UK's all time great bassists. He started out playing lead guitar (very good he is too!) until falling under the spell of a certain Mr J Harris whereupon he switched to bass. Alan became part of the Johnny Howard Group which led to numerous radio (& TV?) appearances and then on to sessions. In the 1970s/80s Alan Jones was one of the UK's leading session men, playing on literally thousands of session tracks including (apparently) no fewer than 33 No.1 hits. Between 1978 and 1989 Alan toured and recorded with The Shadows until a serious car accident curtailed his career and almost ended his life. By the time that Alan was fully recovered, the session scene was all but over and the Shadows had broken up. However, the genial Mr Jones was part of Barry Gibson's Local Heroes and is part of Bruce's Moonlight Shadows. He is now a regular at Pipeline and many other conventions.
What of Alan's Friends? Ian McCutcheon has been playing guitar for well over 40 years and he is a very accomplished player. Ian's outstanding series of Shadows Workout CDs provide superb backing tracks for those who wish to emulate Hank B Marvin. I always marvel at Ian's skill as he quite often (courtesy of overdubbing) plays lead, rhythm, bass, second guitar etc. Drummer Martin Verrill is a lifelong Shadows fan and he is well known to us as Legend's drummer. Rhythm guitarist John Woodward is a lifelong fan of Bruce Welch and Amy Harper (keyboards) has backed various ex-Shads as well as providing keyboards for numerous instrumental combos.
For the purposes of the usual Pipeline balance, Alan Jones & Friends were there to provide fans with a healthy dose of Shadows instrumentals. This they proceeded to do with considerable aplomb. A feisty Flingle Bunt set the tone straight away with the whole band really fired up and immediately afterwards they tore into Man Of Mystery complete with screaming guitar solos. David Martin maintains that the rhythm part for Temptation is even more murderous than The Savage. Well, John Woodward was more than equal to the task as the group delivered another top class performance.
The affable Alan Jones made the introductions in his genuinely modest and laid back fashion. Wonderful Land offered the chance to slow the tempo down a little and also to introduce Amy Harper on keyboards. Dressed in the obligatory black top and black jeans, Amy sat quietly in the background – but she is an excellent keyboard player who fulfils her role admirably.
Ian McCutcheon demonstrated that he has excellent ballad technique in stark contrast to his fiery playing during Man Of Mystery and Temptation. A superb Gonzalez saw the group rocking out yet again whilst the tricky Thing-Me-Jig enabled both Ian and Alan to show off their respective chops. Somewhere was simply beautiful with John Woodward's tastefully crafted arpeggios underscoring Ian's super lead guitar work. John's rhythm wrist was tested again on The Savage as the group blazed away in fine style. Well done Martin Verrill for replicating Tony's drum figures on this one. Amy returned to recreate the Norrie Paramor strings on Atlantis to good effect.
Then we were treated to I Wish I Could Shimmy… before Alan excelled himself with a magnificent version of Nivram. Cricket Bat Boogie isn't a simple number to play, but the band made it sound easy. Argentina was a tour de force by all concerned – a fine group performance and very moving indeed. A bouncy Foot Tapper was followed by a wild Riders In The Sky and that was topped by an even wilder FBI. Alan Jones & Friends finished with – what else? – Apache. The rapturous applause was testament both to the enduring popularity of Alan Jones and the skill, enthusiasm and commitment of his Friends. Thanks Alan, Ian, Martin, John and Amy – you made a lot more friends (& fans) courtesy of your excellent performances.

THE PACKABEATS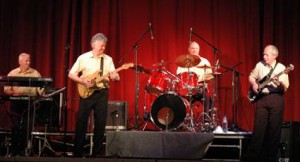 The Packabeats – (photo Steve Terrell 2004)
Every year there seems to be a Pipeline exclusive. This year was no exception with an appearance by the complete original line-up of The Packabeats who had last appeared onstage together in 1964! Actually lead guitarist Malcolm Lenny was at pains to point out that drummer Ian "Stoo" Stewart had founded the original group and that most of the onstage line-up didn't actually join The Packabeats until mid-1961 after the release of Gypsy Beat. Well, the line-up that played between 1961 and 1964 is original enough for me!
Malcolm Lenny turned out to be a brilliant front man as he introduced the various instrumentals. He mixed humorous anecdotes with laconic witticisms and self- deprecating personal put-downs. Not only that, he revealed himself to be a lead/rhythm guitarist of considerable talent. It's a mark of confidence for any act to start their set with their biggest hit. The Packabeats did just that as they faithfully re-created the chunky sound of their minor classic Gypsy Beat. The group obviously had high hopes of further chart success when they signed up with Joe Meek's RGM Sound outfit. Indeed, their single Evening In Paris / The Traitors fully deserved to be a big hit. To long-standing instro fans it remains as one of the finest double-sided releases never to chart. This was an excellent live performance with the entire group on top form.
Chattanooga Choo Choo was also splendid, being nothing like The Shadows' familiar arrangement. No, this was highly spirited with jazzy tinges and inflections. Malcolm switched to a simpler, heavier style of playing to faithfully capture the mood of Duane Eddy's The Lonely One. In similar vein was 40 Miles Of Bad Road – Ian Stewart thought that the title could be updated to M40 Miles Of Bad Road!
Versatility was perhaps The Packabeats' trademark as they now delivered a spirited Walk Don't Run which mixed elements of Chet Atkins, Johnny Smith, John Barry and The Ventures and yet still sounded fresh and original. With the group lending excellent support, Malcolm switched to a kind of simple wah-wah / chorus effect to come up with a lively romp through Teensville. Referring to Santo & Johnny's Sleepwalk, Malcolm revealed that The Packabeats always preferred the follow up release Teardrop. This was a beautifully crafted and sensitive performance of great style and charm.
By way of contrast again, the guys delivered a truly rockin' Tennessee Waltz which was loosely constructed, according to Malcolm, in the style of Bill Black's Combo. Next up was a version of Dream Lover which was combination of the actual release and how the group originally envisaged it. Definitely all the better for that! They may have preferred Teardrop to Sleepwalk, but The Packabeats were obviously very fond of the latter too as they presented their smooth and silky version to the Pipeline audience. Ringing the changes again, the group powered their way through a punchy version of Diamonds, offering Ian Stewart the chance to showcase his impressive Tony Meehan chops.
Equally impressive was bassist Ted Harvey's performance as he played the lead throughout on the bass guitar. Excellent! It seems that almost everyone who played guitar in the early 1960s was a fan of Buddy Holly. The Packabeats were no exception and they duly paid homage with a rocking instrumental version of Buddy's Rave On.
Equally fine and just as rockin' was Packabeat. This was the B-side of Dream Lover and many people, including the Packabeats themselves, felt that "Packabeat" should have been the A-side. Again, most fans regard the fabulous The Traitors as The Packabeats' finest recording as well as being amongst the upper echelon of Joe Meek's instrumental productions. Well… Ian, Malcolm, Ted and Derrick were really on fire as they blasted their way through an absolutely fantastic live version which received a huge ovation from the audience. The Packabeats ended as they had begun by revisiting Gypsy Beat.
The group also mentioned their vocalist Tony Holland (who could not feature at an instrumental convention). They stressed that they were never purely an instrumental group and always appeared as Tony Holland &The Packabeats. Tony has serious health problems at the moment and I'm sure that all Pipeliners would like their best wishes & hopes for a recovery to be passed on to him.
The group appeared to be visibly touched by the genuinely warm response to their appearance. To be honest, I don't really know what my own expectations were before The Packabeats took to the stage. Whatever they were – they were certainly exceeded! They had a totally unique sound and style all of their own, which is quite an achievement in itself. Judging by this performance, I hope that the group don't hang up their instruments for good just yet.

"1961"
Wow, what a musical pedigree these guys have! Ronnie Gustafsson is well known to all instrumental fans as a lead guitarist par excellence specialising in that early '60s Shadows sound. The original "1961" group was rightly hailed as a classic instrumental incarnation. However, the group disbanded not long after the 1995 Pipeline Convention. Ronnie recently revived "1961" and he has assembled a top class set of players. For starters rhythm guitarist Stefan Linder (a staunch Shadows fan) is a graduate of both Stockholm's Royal Academy Of Music and the M.I. of Los Angeles. He is a professional session player and guitar teacher. Drummer Roger Palm is also a top session player and drum/percussion teacher. He has played on over 4,000 recordings including many of Abba's greatest hits! Bassist Jan Bergman took up the instrument in 1963, being inspired by Jet Harris. He too is a graduate of Stockholm's Royal Academy Of Music and he is one of Sweden's top session players. As I said, quite a musical pedigree.
Let me say at the outset that these guys were absolutely superb – sheer class! Naturally they all have years of training and vast experience at the very highest musical levels. Because of this their performances were ultra-tight, spot on and (apparently) effortless! As Ronnie said to me: "These guys read music as easily as you or I would read a newspaper."
"1961" opened up with the first of many, many originals from the prolific and awesomely talented Lennart Clerwall. He really does have the knack of writing material which sounds as though it dates from those halcyon days of the early '60s. Second Street is a close relative of The Boys and the superb rhythm section urged Ronnie's classic twanging lead along in fine style. Fairytale is a brand new Clerwall number – a lovely guitar ballad in the grand manner of the instrumental tradition.
Sticking to the early Shadows era, Ronnie and "1961" opted next for a fine reading of The Stranger. Spanish Tango (another masterful composition from Lennart Clerwall) is one of my favourite "1961" tracks. The fantastically tight, taut and percussive playing from bass, drums and rhythm allowed Ronnie to develop his flowing, romantic lead (contrasting with stately clipped passages) to wonderful effect in a performance of great eloquence. Shazam, of course, gave all of the group members the opportunity to show off their mini solos very slickly indeed. These guys have all taken part in literally thousands of sessions, recordings and performances – yet there was a great sense of fun and stylish energy in their playing.
The Flight To Paradise has a beginning and ending in the style of My Resistance Is Low whilst the middle eight is loosely based around one of those maddening polkas – the original title of which escapes me. (As 1950s children in the Midlands we used to sing it to the repetitive lyric of "You can't put your muck in our dustbin, because our dustbin's full!" Maybe one of our knowledgeable readers will be able to put me out of my Oompah misery!)
Flowers, Raki-Taki, Scary Town, My Lonely Heart and Sea Shell were all brand new numbers from the Clerwall brothers, Lennart and Hans. They were all quality items and I believe that "1961" have plans to record a new CD so hopefully all of these tracks will be on there. By turns they were dramatic, powerful, gently wistful, yearning and nostalgic – and all points in between.
Perfidia and The Frightened City were mighty fine too with the former illustrating the skilful use of dynamics and phrasing to masterly effect whilst the latter was both frenzied and technically brilliant.
Hooray For The Brave Soldiers was splendidly played but, for me at least, it's one of Lenny Clerwall's very few nondescript compositions. Riding Cossack has many other titles in the UK: Song Of The Plains, Cavalry Of The Steppes, Samovar etc, etc. Very atmospheric and tasteful playing from "1961", and they rounded off their set with a rousing FBI.
Last year there was a poll to judge who came closest to achieving "That Sound" of Hank and The Shadows ca.1960-1962. The main contenders were judged to be Roy from FBI, Colin Pryce-Jones, Phil Kelly and Ronnie Gustafsson. Listening to Ronnie at Pipeline (and listening to my "1961" CDs again) there are definitely times when you could swear that it was indeed Hank playing. Sure it helps to have the correct guitar, amplifier, echo box etc, etc. But what Ronnie also has is immense talent and a genuine commitment to the music.
I spent quite a lot of time talking the members of "1961" on the social gathering the night before Pipeline. What struck me most was simply how avuncular and modest they were. Great musicians and really pleasant people to be with. Come to think of it – what we had from every member of "1961" was virtually an instrumental master class. Thanks guys. Oh, by the way, Ronnie Gustaffson is a great fan of Tommy Cooper – I just thought you'd all like to know that.
 
THE CHARADES
Two years ago The Charades were virtually unknown in the UK, but boy they completely blew us away at Pipeline 2002 with devastating effect. I was an immediate convert and quickly wanted to obtain all of the group's recordings. Good as they (the CDs) are, it's surely the group's live performances that are simply awesome. I would agree with what many long-time fans and aficionados said in the blurb of their Action CD: that The Charades were simply sensational.
I was able to spend some time chatting to the band and their delightful entourage (managers, wives, partners, relatives, friends etc.) at The Bonnington Hotel the night before Pipeline. Like so many of the bands I have met they were all charming, friendly, funny, modest and enthusiastic.
Surprisingly they were also a little worried. Worried? The source of their concern was that two years previously they were not headliners and there was little or no audience expectation, hence, to some extent, no pressure. They then delivered one of the greatest performances ever witnessed in 10 years of Pipeline Conventions. Now it was 2004 and The Charades were top of the bill, this time around would they still be able to live up to everyone's high expectations? I think it's fair to say that the answer was a resounding "Yes!!" 
The great skill of this entire band is their amazingly tight ensemble playing. Bass, drums, lead and rhythm are always exactly spot on, even when the guys are playing at breakneck speed. Hannu is an outstanding player, but he is made to sound even better because of the fantastic musicians providing the backing. Leo's rock-solid pulsating bass lays a great foundation but he's also talented enough to add little runs, fills and variations and he really throws himself into his bass playing. Drummer Jari Moberg is a powerfully built guy. He uses his strength allied to great technique to thrash out his percussive barrage of sound. It may be the wrong genre, but he's a kind of John Bonham of the instro world. I'm sure that his heroes are Mel Taylor, Brian Bennett, Tony Meehan (& probably many others). The fact is that he's fast and he's very strong. His playing is enormously energetic. Finally, the rhythm playing. Incredibly fast, tight, crisp and propulsive. Where do these guys come from? In 2002 it was the fantastic Marko Rahikainen. Unfortunately he couldn't make Pipeline 2004 and was replaced by Samu Wuori – who was equally impressive. Again, to quote Dave Burke "Together they are magnificent." Amen to that. But, back to the music.
Who would dare to turn Shirley Bassey's gloriously kitsch, smouldering torch song Hey Big Spender into an instrumental? The very thought of it is simply outrageous but, guess what? The Charades pull off the impossible. It really did work! The Shadows' Geronimo is seldom covered and The Charades give it a decent makeover in their own inimitable fashion. Changing Dimensions is a great original simply drenched in monstrous echo and dripping with cavernous reverb sounds as the group pound along in aggressive and menacing fashion.
The Charades take many well-known vocal tracks and arrange them as superb instrumentals with great skill and flair. In this respect California Dreaming, Keep On Running (great fuzz sounds), Dancing In The Street and even Summer In The City all turned out supremely well as exciting and exhilirating instrumentals. Ame No Midosuji (a lovely Ventures original) gave The Charades a rare opportunity to slow things down and chill out. A Little Bit Beat! A Little Bit Go! is an original composition by Hannu in similar vein. Occasionally The Charades do play quietly and slowly. Yeah they can do beautiful sometimes, very effectively too.
Wow! Jari's opening drum roll was probably his most fearsome yet as Hannu, Samu and Leo ripped through a glorious No Trespassing with a vengeance. Just how does Hannu achieve that high "springy" twanging effect? Action In Space and In Motion are on the way to becoming Charades classics but, for me, Secret Agent Man was just out of this world. The kitsch 60s spy classic was always a brilliant Ventures track. The Charades did it again, took an outstanding track and moulded it into an even more incandescent supernova of an instro. Magnificent stuff. The Charades were back, and they didn't disappoint.
Pipeline 2004… another Instro-Fest, another triumph. The great Alan Jones and his talented friends gave us fabulous Shadows instrumentals. The Packabeats were truly unique – and what a wonderful "hidden" talent Malcolm Lenny was. "1961" gave us superb musicianship, many original melodies and the majestic guitar of Ronnie Gustafsson. The Charades gave us power, skill and exuberant vitality allied to the stunning guitar skills of Hannu Kononen. Truly another Twangtastic Day. Thanks to all of the artistes and a special big thanks to Alan and Dave, long may they flourish!