The UK published magazine dedicated to Rock Instrumental information, news and reviews, in-depth articles and discographies and we review performances, CDs, DVDs and books in our quarterly issues.
Hear Pipeline editor Alan Taylor on his monthly radio show – November show details will be posted here when known.
Alan's next show will go out Sunday 25th October at 21:00 hours in the UK.  This week it will be a BIRTH OF SURF show including tracks from the new CD The Birth Of Surf Vol.3…
That's 22:00 hours in Central Europe
and for America it's 1pm PST, 3pm CST and 4pm EST.
The show will be repeated on Thursday, October 29th at 5pm PST, 7pm CST and 8pm EST for America
(that's 2am UK and 3am in Central Europe during the early hours of Friday, October 30th).
Click on the North Sea Surf Radio image to go to the station.
————————————————————————————————————————–
PIPELINE #98 Latest issue – SUMMER 2015 OUT NOW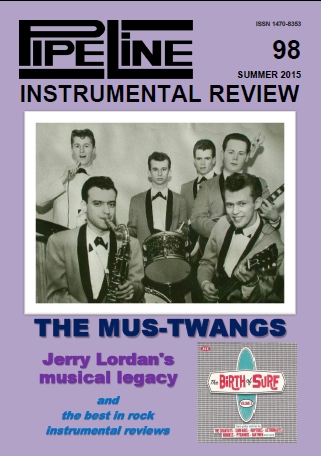 We welcome contributions to our News page,
especially info. on upcoming live rock instrumental gigs